Details of AirRelax LGT-2200DVT
Introduction of Deep Vein Thrombosis ( DVT ) 
Deep vein thrombosis is one of the most common complications of bed rest. Prevention is urgently needed.
Compression Modes
 4 compression modes with reusable & disposable sleeves meet all your need.
 Applications
 Prophylaxis of Deep vein thrombosis (DVT).
Decrease the risk of Deep Venous Thrombosis (DVT)
Aids blood flow back to the heart
Treat and assist healing of cutaneous ulceration (Wounds)
Reduce healing time and enhance arterial circulation
Reduce compartmental pressures
Reduce edema (swelling) and the need for anti-coagulant medications
GZ LONGEST (full name: Guangzhou Longest Science & Technology Co., Ltd)
is a renowned manufacturer certified by ISO9001 and ISO13485. Our products have got CE certificate and SFDA
Guangzhou Longest Science & Technology Co., Ltd was founded in 2000 by Mr. Luo - the General Manager of the company. GZ LONGEST is now a leading manufacturer and marketer of physiotherapy and medical aesthetics devices such as RSWT (radial shock wave therapy), interference and vacuum therapy, magnetic heat therapy, pressotherapy, IPL and other types of medical aesthetics devices. 
Our motto: "Future created by technology, Reputation created by quality, Value created by brand" 
Our mission: We will keep our focus on the aim of "For Customers" and continue our quest for the health and happiness of customers.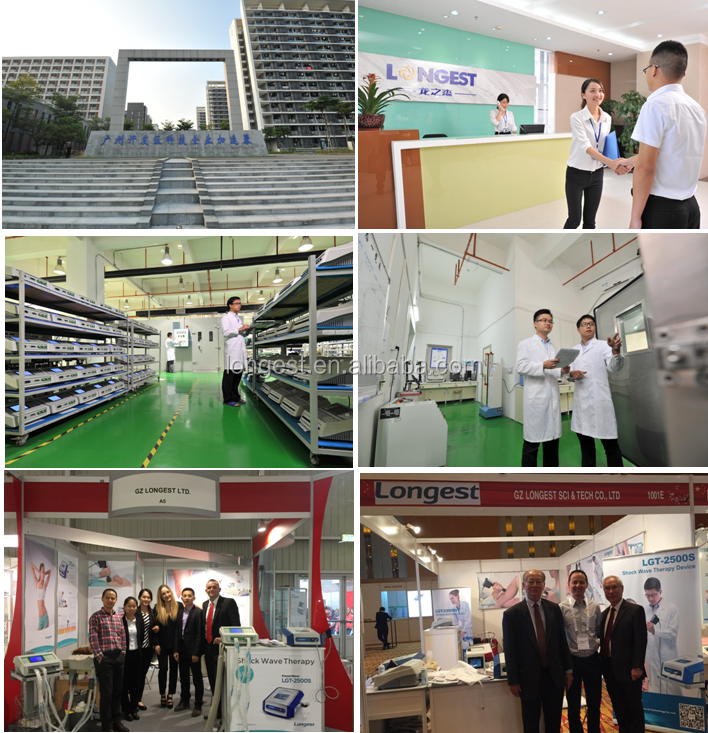 Contact Us